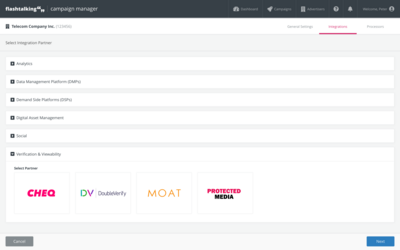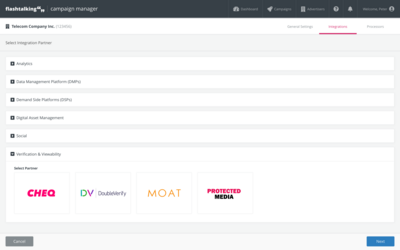 Flashtalking Announces DoubleVerify Integration And Introduces Verification Trafficking Automation To The Industry

Flashtalking's latest partner integrations and capabilities bring unprecedented efficiencies, with the removal of manual tag wrapping, greatly speeding workflows.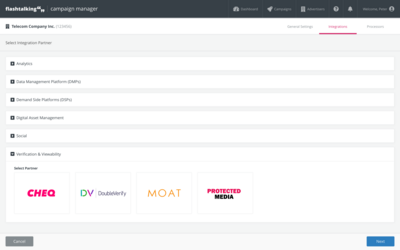 Flashtalking today announced the debut of Verification Trafficking Automation to its platform. As part of Flashtalking's partnership program announced in 2019, the industry's largest verification players, including DoubleVerify, Protected Media and Cheq have integrated with Flashtalking to introduce new levels of automation and efficiency. The integrations will enhance agency workflows by significantly reducing manual verification tasks that can introduce human error and delays, and often slow down campaign activations. Flashtalking is the first primary ad server to offer automated ad fraud solutions of this caliber within its campaign management workflow.
For agencies, the tag wrapping process has long been a frustrating step in the ad trafficking process, as it requires manual work and additional time and effort. Flashtalking, in collaboration with these leading verification partners, eliminates this separate cumbersome step and automatically generates wrapped tags ready for trafficking. It is no longer necessary to manually send tags to verification partners for wrapping, which frees up agency teams to focus on other vital tasks. Similar integrations between Flashtalking and leading DSPs to be announced shortly will further streamline agency workflows and automate additional manual aspects of ad trafficking.
"We are committed to enabling an open ecosystem that allows clients to integrate independent partners as they choose," said Flashtalking CEO John Nardone. "The integrations with DoubleVerify, Moat and others are highly valued by our clients and agency partners, and highlight our growing strategic partnership program. Every partner we integrate further contributes to superior operational efficiency and superior client data."
"Driving efficiency for our advertiser customers is paramount," said Steven Woolway, EVP, Business Development for DoubleVerify. "Strategic product collaborations of this kind, with industry leaders like Flashtalking, enable us to reduce our clients' workload through the automation of DoubleVerify services."