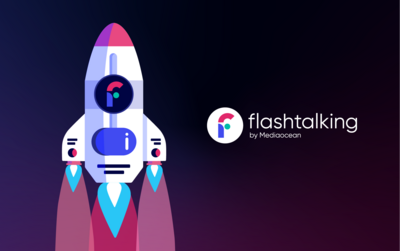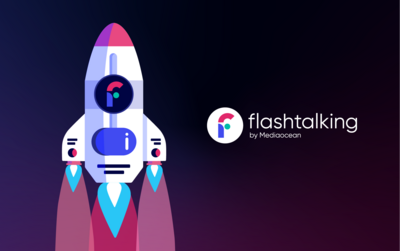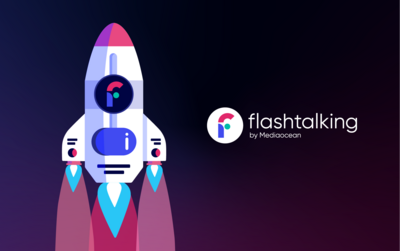 NEW YORK, September 26, 2023 (GLOBE NEWSWIRE) Mediaocean (mediaocean.com), the mission-critical platform for omnichannel advertising, announces the reintroduction of Flashtalking as the leading independent ad tech stack for creative relevance and activation across all digital marketing channels. With refreshed branding and a new website to reflect its vision for the future of advertising, Flashtalking provides innovative solutions for the world's biggest brands to unleash the power of creative and make media work better. In the latest G2 Fall 2023 Reports, based on authenticated customer reviews, Flashtalking was named a Leader in both Creative Management Platforms and Cross-Channel Advertising. 
"We are incredibly excited to roll out a fresh Flashtalking brand and extend our leadership in the Creative Ad Tech category. This update comes just as the industry's view could not be clearer: creative personalization is what's driving outcomes for omnichannel marketers," said Ben Kartzman, COO of Mediaocean and Flashtalking. "Seeing the results our platform delivers motivates our team to continue innovating and, with AI at the core of our stack, the future is very bright for our company and clients." 
The unveiling also coincides with the Q3 release of a timely research report, "Breaking through the Digital Ad Ceiling with Creative Personalization." The findings reflect a growing recognition that Creative Ad Tech built for automation, relevance and intelligence is what drives breakthrough campaigns at scale. In fact, 97% of marketers report that personalized ads drive higher conversions and customer engagement while 79% said they view creative optimization as part of working media budgets. 
A cross-vertical survey reveals sentiment that programmatic media has matured, incremental lift is harder to attain, and advertisers are looking for the next thing to drive their business growth. Among key campaign levers, including audience targeting and bid management, creative optimization emerged as the variable which will have the biggest impact for omnichannel marketers. To that point, 96% of respondents said that creative will be more important in advertising campaigns over the next 10 years. 
Additional findings from the research shine a light on key challenges and opportunities when it comes to creative personalization: 
Lack of insights and intelligence: 91% of those surveyed are experiencing major blind spots when it comes to creative intelligence.  
Siloed teams: 90% say siloed teams lead to inefficiency and slow go-to-market. 
Disparate technology: 73% think that brand messages have become increasingly disconnected from how consumers experience them in their world. 
The survey was conducted using TechValidate to gather insights from 100 leaders at brands, agencies, media providers, and tech companies across ten verticals, including Automotive, Consumer Packaged Goods, Direct-to-Consumer, Entertainment, Financial Services, Pharma/Health, Retail, Technology, Telecommunications, and Travel. Please visit flashtalking.com/infographic to see a snapshot of the results. 
"This research presents itself at a pivotal moment for our company, partners, and clients. It's clear that the gap between creative and media grows wider by the day. Consumers are inundated with irrelevant and repetitive messages. Meanwhile, marketers have blind spots about what they're running and what's working," said Grant Parker, Mediaocean and Flashtalking CRO. "To meet the industry need, we have re-upped our mission and commitment to Creative Ad Tech, equipping marketers worldwide with advanced tools for creative personalization and optimization. Now is the time to integrate creative ad tech into omnichannel media workflow and Flashtalking is leading the way." 
The company will be hosting a webinar to review the research and present a deeper look at the challenges, opportunities, and outlook for Creative Ad Tech and innovation on September 28 at noon EST. "The Mediaocean Current: Flashtalking Creative Intelligence" will provide attendees the opportunity to hear from Mediaocean and Flashtalking leadership on the mission and solutions at hand – including Kartzman, Parker, and CMO Aaron Goldman. To register, please visit mediaocean.com/flashtalking-webinar for a link to watch live as well as receive a recording for on-demand viewing.  
About Mediaocean 
Mediaocean is powering the future of the advertising ecosystem with technology solutions that empower brands and agencies to deliver impactful omnichannel marketing experiences. With over $200 billion in annualized media spend managed through its software, Mediaocean uses AI and machine learning to control media investments and optimize business outcomes. The company's advertising infrastructure and ad tech tools are used by more than 100,000 people to power campaigns from planning, buying, ad serving, and creative personalization to analysis, optimization, invoices, and payments. Visit mediaocean.com for more information. 
About Flashtalking 
Flashtalking unleashes the power of creative to make media work better. As the leading independent ad tech stack for relevance and activation across all digital marketing channels, our technology bridges the gap between creative and media. We provide automation to connect the silos between teams and deliver more efficient production, versioning, and distribution of creative. We enable personalization to ensure the most relevant and impactful brand message reaches the right consumer at the right moment. And we deploy intelligence for a deep understanding of what messages are resonating with different audiences and environments with granularity and transparency of data. Our solutions operate at scale across CTV, Video, Display, Social, Native, Audio, and Retail Media channels. And we integrate with existing technology stacks to optimize campaigns through DSPs, DAMs, ad servers, verification providers, measurement tools, and more. As part of Mediaocean, Flashtalking is tied into the ad industry's core system of record for planning, buying, and billing. Visit flashtalking.com to learn more. 
 
Media Contact 
Kendall Allen Rockwell 
Broadsheet Communications for Mediaocean 
kendall@broadsheetcomms.com