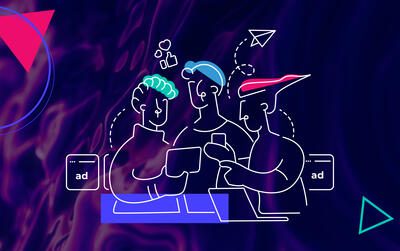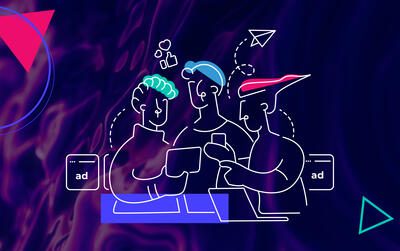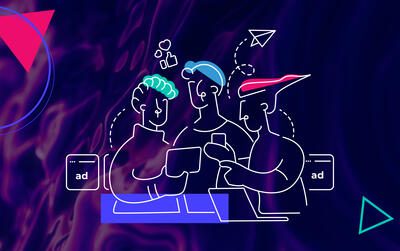 This post is part of a series unpacking The Flashtalking Framework.
Activation and the creative-media gap
The Activate phase of the Flashtalking framework is focused on "making it connect." It is the crucial step that leads to the moment of truth, where we deliver relevant and engaging messages to the right consumer at the right moment, on the right device, and in the right format (video, display, audio) across channels.
Numerous providers of creative tools are capable of building and managing creative content, but they do not handle activation. On the other hand, there are many point solutions that support activation for specific channels but lack the omnichannel creative workflow and tools. Both of these scenarios perpetuate the siloed approach that further widens the creative-media gap.
Flashtalking is unique in that it combines a converged, automated omnichannel creative workflow with the ability to activate your creative across social media, the open web, and CTV—all within the same integrated Flashtalking UI. In this way, Flashtalking's tech stack manages the burden of media fragmentation, freeing up your time and energy to focus on what is truly important—brand growth.
Given the differences that exist across Social and Open Web ecosystems, we will start with Social activation in this blog post and continue with open web and CTV in the next post.
Social activation 
Social activation is accomplished through the Flashtalking Social Ads Manager, which provides a single interface, a consistent toolset, and endless value-adds for cross-publisher activation.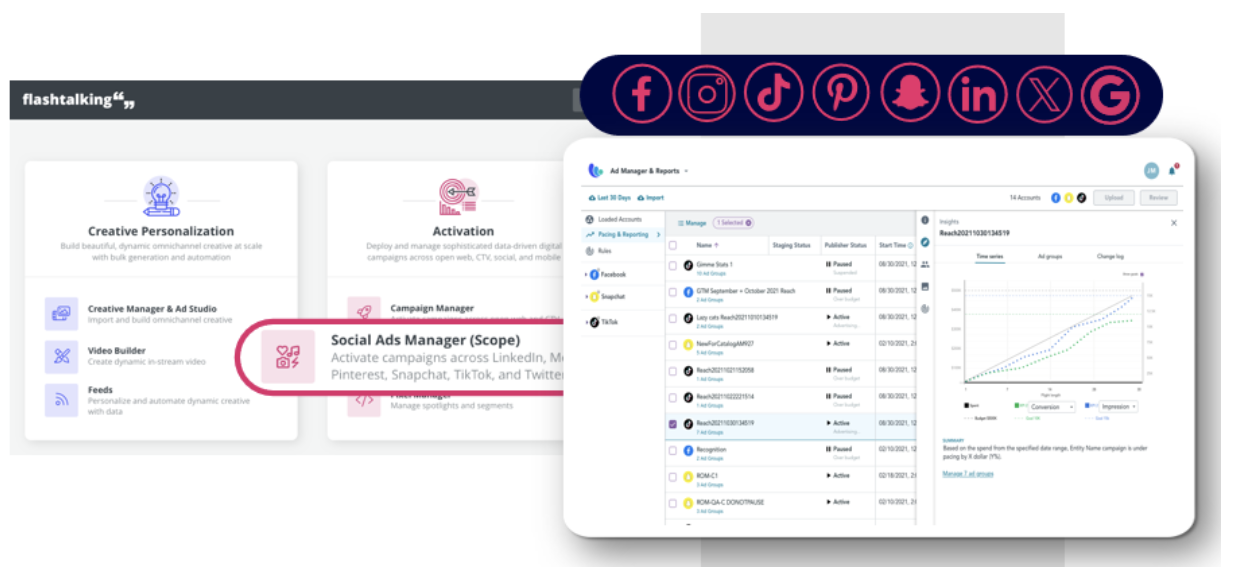 Flashtalking has introduced automation that delivers the creative agility and speed to market that so many social marketers desire. 
You typically begin by assigning and trafficking all creative variations directly into campaigns, which can be done using our bulk-build tools and cross-publisher sheet-based solutions to automate the trafficking process. 
You can then easily monitor pacing, activate rules, receive alerts, and automate many of the cumbersome day-to-day tasks across publishers in a single platform. 
Finally, ongoing trafficking is made easy by the continued use of automation levers. This includes updating ads, creating new ads with one click, scheduling, setting them live, and pausing, making the entire trafficking process more collaborative and streamlined for both creative and media teams. 

Audience activation
Many advertisers face challenges when trying to activate and expand upon top-performing segments across the social ecosystem. Flashtalking offers three distinct ways to help you manage, scale, and apply audiences: 
Leveraging Audience Hub within Ads Manager, simply upload your first-party data through our direct DMP integrations and distribute those audiences once across all social platforms—saving both time and added data costs. Audiences are refreshed in-campaign at more frequent intervals to increase accuracy. 
Extend audience strategy by easily activating third-party audiences through ready-to-go marketplace segments and applying them directly to campaigns across publishers within the same workflow. 
Cut through the increasingly competitive landscape through our custom affinities and lookalikes. Expand your reach at lower costs through untapped audiences that outperform. 

 



 
Social delivery
Staying fresh and relevant in a channel where consumers fatigue at a rapid pace is challenging for advertisers. Our social toolset provides a range of rules-based levers to ensure the right ad is seen at the right time across publishers, placements, and devices—without manual maintenance. Activators can apply automated logic, custom scripts, actions, and cross-publisher smart groups. You can leverage some of the more common applications across verticals, such as: 
Scheduling (e.g., sales countdowns, offer updates) 
Dynamic weather creative based on forecasts. 
Message sequencing based on the consumer journey. 
Automated day parting 
Aligning social media activation with linear TV programming and/or events. 

Learn More 
If you are interested in learning more about social activation using the Flashtalking Social Ads Manager, please reach out to us. In the meantime, please review our next blog post in the series, which deep dives into Activation in open web and CTV. Or, you can skip ahead to a deep dive into the final phase of the Flashtalking Framework: Iterate!