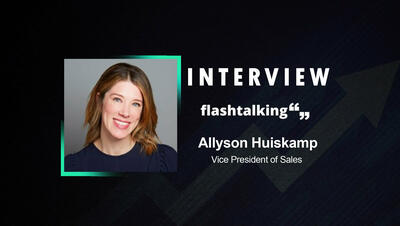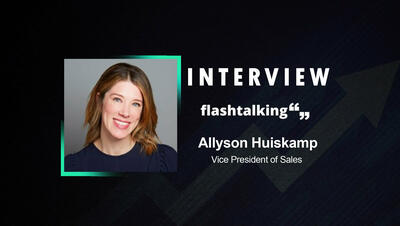 SalesTechStar Interview With Allyson Huiskamp, VP Sales

It's time for marketing and sales teams to further optimize their digital advertising and marketing tactics in 2021 to create better outcomes, Allyson Huiskamp, VP Sales at Flashtalking, Inc. joins us to share a few best practices and tips: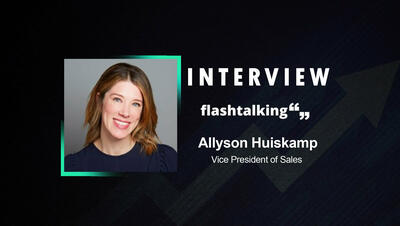 Hi Ally! Welcome to SalesTechStar!  We'd love to hear about your time in the technology sales marketplace, your biggest moments, wins, highlights! 
In 2007, I was lucky enough to join PointRoll, who were then at the forefront of rich media. For the first time in the digital market, creative, media and analytics shared a seat at the table. Prior to that, media and analytics sat on one side, and creative amounted to whatever you could fit into a 300×250 box. Not a lot of thought was given to the audience or the content of the page that the consumer had visited.
This was a really exciting time at PointRoll because we had the opportunity to work with everyone. One of our largest clients was Kellogg's, where we were working across 30-plus brands to power thoughtful, interactive, creative formats, and then most importantly, were able to measure engagement in partnership with the media teams.
As it tends to, the industry pivoted to the programmatic world, where data and enhanced measurement became more available. Programmatic essentially became the staple and the means by which media was bought and sold. The opportunity to pivot from standard media and use context and data to really drive performance was an exciting time. Shortly thereafter I joined Flashtalking, one of the first companies in the space to fully embrace creative, media and analytics. While there had certainly been other DCO providers, Flashtalking had a different spin because we had so much experience in working with creative agencies. That definitely gave us an edge.
Tell us about Flashtalking's products; over the last few months, the COVID-19 pandemic changed the course of business and tech trends, among many other things. How has the demand and use of digital ad products been influenced?
Due to the pandemic, a major trend that we see is being able to quickly get messages into the market and to be able to address supply. For example, for some of our CPG clients, for example, we're regionally or very specifically addressing how they can handle supply and demand, in those particular regions for critical products that they're selling.
But a bigger trend, and something that I think that everyone at Flashtalking is really excited about, is an uprising of sorts. There is an uptick in how the adoption of OTT and CTV has been embraced while we're all stuck at home. Everybody is streaming video and content at a much, much higher rate and not just on their TVs, but on their mobile devices and tablets, and truly engaging with video content everywhere. Flashtalking has made a big push over the past year and a half to embrace those spaces. Sure, we've always been able to serve video and content in those channels, but we are acknowledging that measurement and personalization have been challenging for a lot of companies and brands. Flashtalking is really taking a leadership role to make that content more exciting.
How best do you feel (ways/tools/strategies) companies should optimize their digital reach during a time when most of their digital audiences are working from home and sheltering from home and are online-always?
As a dynamic creative ad server, we have the ability to identify important data triggers and tailor a brand's message based on circumstance, time of day, screen type, etc. We've seen advertisers do this by talking to consumers about supply and demand in geographic location based on what is occurring regionally, for example whether your local restaurant is offering outdoor dining (based on weather + geo) or just take away.
An additional trend that we've seen is speaking to the consumer about the time of day, and their being at home—knowing they're in the home office and it's three o' clock in the afternoon, acknowledging their current state… "It's time for an espresso." Our method is to use all those different types of data points that we know are so relevant and helpful to make connections with consumers, but doing so with that contextual spin of acknowledging that they're at home, and probably have been for a while, not on the go and not even in their usual office situation.
What are some of the changing trends in digital advertising and strategies today in B2B that you feel will remain long term?
Some of the changing trends in B2B that I feel will remain address inventory challenges and why the dynamic ad server can be so effective and helpful. Especially advertisers in the tech category right now, while they're running out of product inventory left and right as consumers fill their home offices. Flashtalking can be leveraged to access advertiser product feeds in real time, in order to actually display only products that are available, and then tailor that message to the small business owner or the business consumer, uniquely based on the products that we know that they need.
How are you seeing brands use more creative methods to boost their digital advertising outcomes today?
Being able to see a change in the market and address it very quickly is an adaptation which really reflects the beauty of digital. So, for example, Amazon recently changed their Prime Day. They moved it to October and a lot of brands in the States needed to be right there with them. Otherwise, they would miss out on this big opportunity to sell some of those big ticket items. Major brands quickly shifted their messaging in new ways to address how competitive they were to Amazon in the market in less than two-days' time. This shows how easily digital creative can flip to handle whatever market conditions may arise.
What are some of the biggest takeaways that you'd share with first-time digital advertisers/marketers?
This may seem trite and straightforward, but believe it or not, it's usually not the way that most advertisers operate. Their digital marketing group is future-proofing their tech stack. Many marketers in this space are working with a video ad server or display ad server or trafficking directly in Facebook, serving videos through a different content distribution channel. Marketers and brands are thinking about how to make it easy, and how to consolidate and have consistency across all their different digital channels.  I would suggest new digital advertisers and marketers look for a partner who can support their business and operational needs across all those different digital channels in order to make their lives easier, and their agency partners' lives easier.
Over the years, as you have transitioned over various sales roles, what are some of the top sales technologies that have always seen a fit in your strategy?
The thing I try to do across every piece of new business that I'm prospecting, or for a piece of business that I'm pitching, is to try and add value in the ways that I'm talking to these brands and advertisers, in a manner that is going to either provide them with new thoughtful strategies or new methods of approaching analysis or analytics without them having asked me. So not just asking for the business, but also figuring out how I can help the brand while, of course, getting them to employ our technology.
A parting thought on your biggest sales leadership goof-up and the learning that came from it!
My first year starting off in sales, I had a really great boss, but probably one that wasn't dialed into my market and my particular brands. And, like most bosses, made a suggestion that I approach a particular client to try to upsell them. And in my gut, I knew that wasn't the right approach. I didn't think it would come off as being authentic. And I did it anyway, because I was junior and I thought that I should do what he told me to do. The situation backfired and the client was offended by my approach.  What that really taught me is just always to trust my gut. You certainly need to listen to your bosses and take their advice, say 99% of the time—my senior leadership have been great and provided me solid advice—But when my gut tells me that it's not the right approach, I have learned to listen to it and formulate a way to still hear the opposing view, but not approach it in the same way, if it doesn't feel authentic.
by Paroma Sen for SalesTechStar