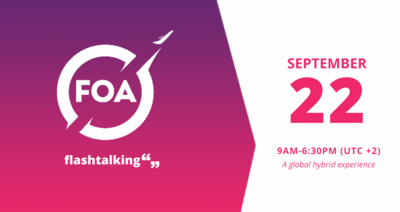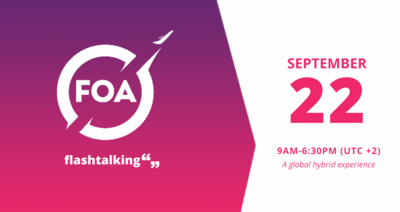 FOA 2020, La Experiencia Híbrida Que Necesita La Industria Marketera Para Afrontar La "Vuelta Al Cole"

El 22 de septiembre tendrá lugar FOA 2020, el evento de referencia en la industria del marketing y la publicidad, que se transforma para ofrecer a sus asistentes una experiencia híbrida que no olvidarán.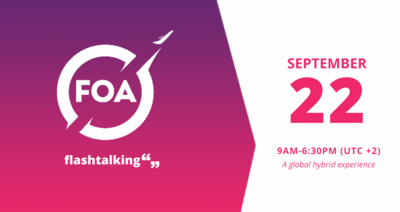 Este año "La vuelta al cole" viene marcada por la incertidumbre de la que es ya nuestra "nueva normalidad". El coronavirus plantea un escenario de cambios al que las empresas deben adaptarse y, por ello, el próximo 22 de septiembre FOA 2020 reunirá a los principales expertos de la industria del marketing y la publicidad (anunciantes, agencias y planificadores de medios), que acompañarán a las empresas en la reentré y les darán las claves para asumir los cambios a los que se enfrentan en estos momentos, como los enfoques que son relevantes para ellos y cómo consiguen una comunicación exitosa a través de los distintos canales, entre otras cosas.
FOA Madrid 2020 ha sabido adaptarse a los cambios derivados de la pandemia y se ha reinventado para seguir apoyando a la industria del marketing y la publicidad, que tan importante papel tiene en estos momentos. Así, esta edición se convierte en toda una experiencia híbrida que se podrá disfrutar desde cualquier lugar del mundo, gracias a la apuesta tecnología de 4foreverything a través de su espacio para eventos híbridos eLive Events. Desde sus instalaciones, se emitirán en streaming las más de 20 conferencias de todos nuestros potentes TOP.
Como cada año, FOA 2020 ofrece un programa de primera que incluye keynotes, mesas redondas, intensos debates y ejemplos prácticos, y cuenta con un cartel de lujo, formado por figuras de la industria tan relevantes como Alfonso Fernández, Gaby Castellanos, Eva Pavo, Mónica Moro, Miguel Justribó o Beatriz Navarro, entre otros. Además, tendremos el placer de conocer el testimonio de personalidades como Desirée Vila, todo un ejemplo de esfuerzo y superación que compartirá con los asistentes cómo afrontar las adversidades en un momento como en el que nos encontramos.
Durante más de nueve horas (desde las 09:00 hasta las 18:30h) embarcaremos en un viaje hacia el futuro de las ideas en compañía de los más prestigiosos potentes y de nuestra gran tripulación: nuestro patrocinador diamante: SunMedia, patrocinadores de oro: Zeotap, McCann y Accenture Interactive, nuestros patrocinadores de plata: Jellyfish, Verizon, t2ó, y The Trade Desk, además de patrocinadores de otro mundo (Ogury, Jurídia, AIM, Samyroad, Padre Group, Wemass, Toluna, Telecoming y Flashtalking) y los colaboradores que nos traerán numerosas sorpresas y sorteos.
A lo largo de estos años, The Future of Advertising se ha convertido en una de las citas más importantes de la industria, logrando situarse incluso en 2019 en el top 6 de los eventos de marketing y publicidad más importantes a nivel nacional. Este año tendrás la oportunidad única de asistir a este gran evento desde cualquier parte del mundo. Hazte ya con tu entrada y disfruta de esta inolvidable experiencia.
Publicado originalmente por Marketing Directo